September 6th, 2010 by Kris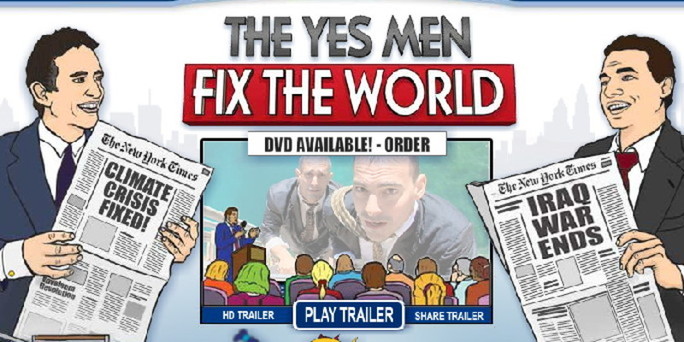 Die YES LABS fördern subversive Projekte:
… it's high time for us to get systematic about helping activist groups highlight life-or-death issues—with or without the Yes Men's participation. That's what the Yes Lab is all about.
Sie stehen mit Rat und Tat zur Seite, und bauen eine professionelle Struktur auf, die für einen beständigen Fluss subversiver Projekte sorgen soll:
… we'll need proper staffing, because these sorts of projects take a whole lot of work. More specifically, we'll need:

A main organizer, who will go after projects, work with organizations to figure out how projects can fit into their ongoing campaigns, and help follow projects through to completion.
An administrator who will also serve as primary fundraiser and manager.
An online guru who will develop our extensive list and put it at the service of projects.
Possibly, extra space beyond our teeny-tiny Manhattan office.
Dafür sammeln sie erst mal Geld: "$50,000 will enable us to do that for an initial period of six months, from September 2010 to March 2011."
Mehr darüber u.a. auf taz.de .
Leave a Reply