January 18th, 2010 by Kris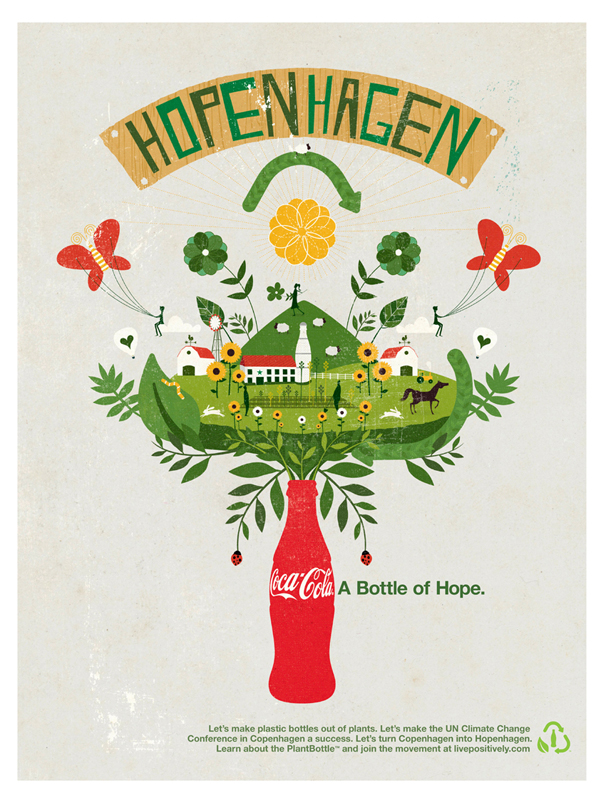 Nachhaltigkeit ist gut und grün ist schön. Das wissen auch die Branding-Strategen von Coka Cola und machen bei der Kampagne Hopenhagen mit. Eine Werbeagentur macht dafür noch eine kreative Kampagne und ein Illustrator hübsche Bildchen. Gegen derlei Image-Strategien hat es die die Macht des Faktischen nicht leicht, denn es mach einfach mehr Spaß im Angesicht eines hübschen Bildchen zu glauben, daß alles gut wird und dabei Cola zu trinken, als bei einem Glas Wasser irgendwelche kritischen Artikel zu lesen. Dennoch sein an dieser Stelle auf ein Interview mit Vandana Shiva verwiesen. Ein Ausschnitt:
Environmentalist Vandana Shiva on the Coca-Cola sponsored campaign 'Hopenhagen' in an interview with Democracy Now's Amy Goodman, 14/12/09:

Amy Goodman: There is a big campaign here called "Hopenhagen."

Vandana Shiva: Yeah.

AG: Among the corporate sponsors are Coca-Cola (…). Can you talk about the global effects of Coca-Cola?

VS: Yeah, my heart just sank, because when I got off the flight, the first thing I saw was a Coca-Cola bottle, "Hopenhagen." Well, if you've been to Plachimada, India, where 1.4 million liters, 1.5 million liters were extracted by Coca-Cola every day, and—

AG: Liters of water?

VS: Liters of water to make these soft drinks and to do the bottling of water. The women had to rise up against Coca-Cola. The women had to say, "Shut this plant down, because we are having to walk ten miles to get clean and safe water." That would not be Hopenhagen. The women of Plachimada would not see hope in a Coca-Cola bottle.

AG: Where is Plachimada?

VS: Plachimada is a little village in Kerala where the women organized and shut down a Coca-Cola plant, and this triggered a movement across India. Three plants have been shut down. Coca-Cola does not bring hope, and Coca-Cola should not be the symbol of finding solutions for the climate crisis.
Via adrianaeysler.com (danke für den Link, Fabio)
Bild: Ogilvy NY + Andrew Bannecker
Leave a Reply